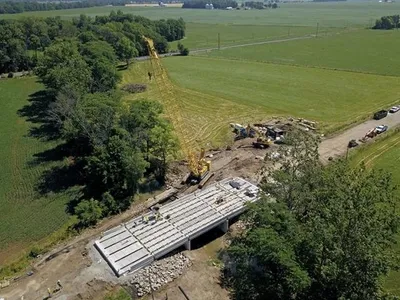 ceEntek's Carbon Nanofiber UHPC is used for the first all-precast bridge replacement in Indiana, USA
January 4, 2022
We are pleased to be featured in the Roads & Bridges Magazine's January publication. As the world's only manufacturer of Carbon Nano Fiber based Ultra-High Performance Concrete (UHPC 2.0) we are proud to see many US DOTs rapidly approve and incorporate our innovative and sustainable products in bridge construction and rehabilitation.
We entered the US market with four bridge projects in 2020, and last year completed five times as many, including the Indiana Department of Transportation's U.S. 52 over Mud Creek Bridge Replacement Project.
This year, we are looking to maintain the same level of growth as the infrastructure repair market is looking to take advantage of $40 billion capital allocation for bridge repairs, replacement, and rehabilitation under President Biden's Infrastructure Investment and Jobs Act, the single-largest dedicated bridge investment since the construction of the Interstate Highway System!
https://www.roadsbridges.com/indiana-dot-completes-first-all-precast-bridge-replacement-using-carbon-nanofiber-uhpc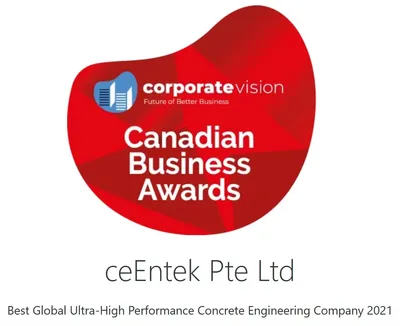 "Best Global Ultra-High Performance Concrete Engineering Company 2021" Award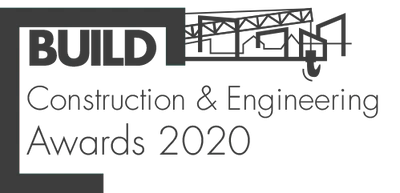 "Leading Expert in UHPC Developer – Singapore" 2020 Award
December 21, 2020.
We are honored to receive the "Leading Expert in UHPC Developer – Singapore" 2020 Construction & Engineering award from the reputable BUILD magazine. As one of the leading trade publications, BUILD magazine is the only globally focused free-to-subscribe construction magazine circulated each quarter to more than 110,000 dedicated and informed industry experts.
Partnership agreement between ceEntek and The Fort Miller Co., Inc.
November 30, 2020.
Singapore, SG / Greenwich, NY: We are pleased to announce a new Licensing Agreement and strategic partnership between ceEntek Pte Ltd and The Fort Miller Co., Inc. This new relationship will develop a collaborative business model in which ceEntek will provide its Carbon Nano Fiber (CNF) enhanced technology and Next Generation UHPC 2.0 know-how to Fort Miller for the exclusive purpose of manufacture, supply and install of Precast Ultra-High Performance Concrete Waffle Deck Panels and other structural components in New York State. The collaboration of ceEntek's technology with Fort Miller's expertise, experience and strong presence in the NY area bridge market will facilitate the development of these competitive new bridge components.
The impact of heavy truck traffic, yearly freeze/thaw and de-icing salts cause ongoing deterioration to bridge decks. The resulting damage and maintenance of bridge decks is a major cost to the operation of the highway infrastructure. Manufacturing a precast UHPC waffle bridge deck panel provides a lightweight, sturdy and durable solution for the deteriorating bridge infrastructure.
In addition, Fort Miller and ceEntek will be working in collaboration with bridge contractors to install the UHPC waffle deck panels. The Fort Miller Co., Inc and ceEntek Pte Ltd are excited at the prospect of this partnership to solve the ongoing bridge infrastructure repair needs in the state of New York.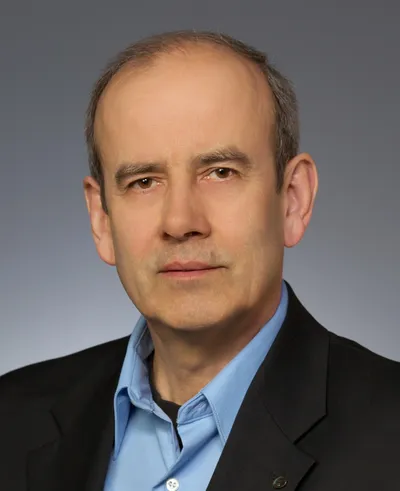 ceEntek expands it's presence in North America
January 2nd, 2020.
In line with it's strategy to become a worldwide supplier of specialized UHPC products, ceEntek announces the opening of ceEntek Canada Ltd. located in Calgary, AB.
Mr. Victor H. Perry, a UHPC veteran, has been elected as President/COO of ceEntek North America overseeing the ceEntek activities in the USA and Canada.
Vic Perry, as he is known, has been instrumental in building the UHPC market in this part of the world over the last 20 years as Head of Ductal (Lafarge) North America. In addition, he is serving on various UHPC committees and has authored or contributed to most of the existing CSA, ASTM and ACI standards for UHPC.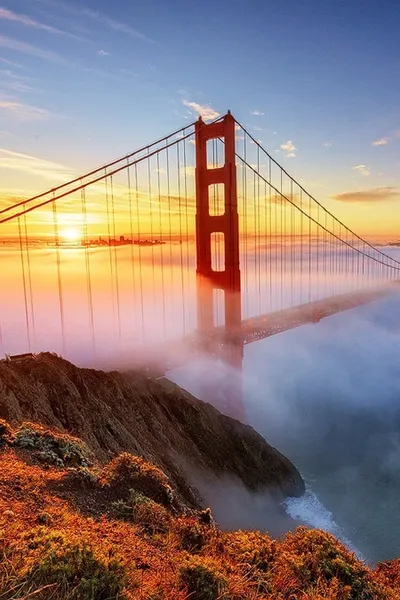 ceEntek ranked at the top of the Important Key Players category within the Global UHPC Market
ceEntek is proud to get ranked at the top of the Important Key Players category within the Global Ultra High Performance Concrete (UHPC) Market for the 3rd year in the row! To find out more about UHPC Market Size, Market Trends, Global Industry Demand, Growth by Regions and Competitive Analysis from 2020 to 2025 request the full report at the following link : https://www.marketwatch.com/press-release/ultra-high-performance-concrete-uhpc-market-size-industry-global-industry-demand-share-top-players-future-growth-by-2025-research-reports-world-2020-09-09
ceEntek UHPC is now listed in PETRONAS technology catalog
ceEntek is proud to announce that its UHPC 2.0 also known as ceUHPC (Advanced Carbon Nanofiber Enhanced Ultra-High Performance Concrete) passed PETRONAS Innovation Gateway assessment and is now listed in PETRONAS technology catalog. ceEntek looks forward to collaborating with PETRONAS and Well Experts Services (WES) in bringing innovative solutions to offshore asset integrity and repair works.
ceEntek comes to the USA
July 2019
In recognition of the rapidly growing market in North America, we opened ceEntek Inc. with seat in Los Gatos, California, USA. Please contact us at info@ceentek.com for inquiries about our North American UHPC market offerings.
ceEntek becomes a member of ACI
Realizing the worldwide impact of the American Concrete Institute, ceEntek became an ACI member and is represented in Committee 239, UHPC.
ceEntek and the University of Colorado, Denver team up to promote the use of UHPC in the USA.
ceEntek has entered into a close relationship with University of Colorado, Denver and Professor Yail Jimmy Kim.ceEntek will provide advanced UHPC material to the University to support further studies and developments.
ceEntek certifications
October 2018:
ceEntek is certified to ISO 9001:2015, ISO 14001:2015 and ISO45001:2018
in October 2018.
In addition we have also achieved BizSafe Star classification.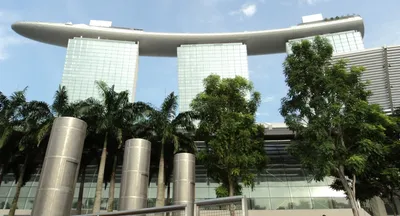 Scientific American, May 2016
'Advanced material manufacturing is one of many areas in which the country hopes to gain a global edge by addressing local problems with broader market relevance. "Like other densely populated cities," explains Seeram Ramakrishna, director at the National University of Singapore's Center for Nanofibers and Nanotechnology, "Singapore needs to find ways to make the best use of its limited space while further improving the quality of life." He adds, "Advanced materials that meet the requirements of a certain application in terms of strength, durability, self-repair, noise mitigation, thermal management and security, while limiting the use of raw materials, are fundamental to this strategy."
Economic development means more businesses, more people and thus more buildings. In Asia alone, an estimated 55% of the population will live in cities by 2030. Given Singapore's dwindling landmass, sustainable long-term growth will depend on going vertical.
ceEntek, a local start-up that makes nano-engineered Ultra-High Performance Concrete (UHPC), is a determined pathfinder on this front. Carbon nano-fiber materials have long tantalized the construction industry. These supernaturally robust yet lightweight materials promise taller, more efficiently assembled structures. Until recently, however, engineers toiled to figure out how to homogenously disperse these fibers in a concrete paste. Now, with its new UHPC concoction, ceEntek believes that it's finally solved the riddle. At half the mass and one-tenth the carbonation rate of normal concrete, UHPC offers superior strength, multi-elemental impermeability and a useful life expectancy of 100+ years.
From bigger skyscrapers and readily transportable prefabricated homes to lagoon cities, material pioneers—like ceEntek—are placing Singapore at the forefront of a looming global battle against overpopulation.'
https://www.scientificamerican.com/products/singapore-a-smart-nation/business-opportunities-ahead/
Straits Times, Singapore, May 6th, 2016